Rocking a baby, snuggling a big kid, wrestling ALL the kids- most of the time I truly enjoy all of these things.
But then there are those other kinds of days: when the forces of evil (hormones, depression, sin, weariness, anxiety, noise, etc) combine to create a perfect storm in my heart and my body, and I just really need everybody to BACK OFF!
And I think, wouldn't it be nice to be a porcupine?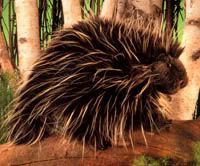 If I were a porcupine..... then they wouldn't want to get so close to me all the time.
I wouldn't have to say "give mama a little space please," or "go sit on the other couch for a while," or "please just don't climb on me right now!" or "I said go OVER THERE!"
My quills would say it all for me. I would be able to sit, just sit, and nobody would want to touch me.
My, wouldn't that be nice?